What's New
Event
Event
Jan 17, 2020

「COSME TOKYO 2020」Exhibition(SHAQUDA)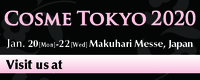 SHAQUDA is pleased to announce participation of exhibition at "COSME TOKYO 2020", the largest beauty exhibition in Japan from on Jan 20th to 22nd.
SHAQUDA is holding 3 series; Brushing Skincare "SUVÉ" , Makeup Brush "UBU" and Compact makeup brush "MISUMI".
And will exhibit not only the items over 50 skus and Gift certificates, but also
"SHAQUDA Skin care demonstration " will be performed by SHAQUDA consierge at the booth.
※ This is B to B exhibition.
ーーーーーーーーーーーーーーーーーーーーーーーーーーーーーーーーーーーーーーーーーー
Name of exhibition: COSME TOKYO 2020
Duration : Jan 20th to 22nd, 10am to 18pm (Last day, 17pm)
Venue :  Makuhari Messe, Chiba prefecture
Booth number  : Hall 3, 27-17【SHAQUDA】
ーーーーーーーーーーーーーーーーーーーーーーーーーーーーーーーーーーーーーーーーーー